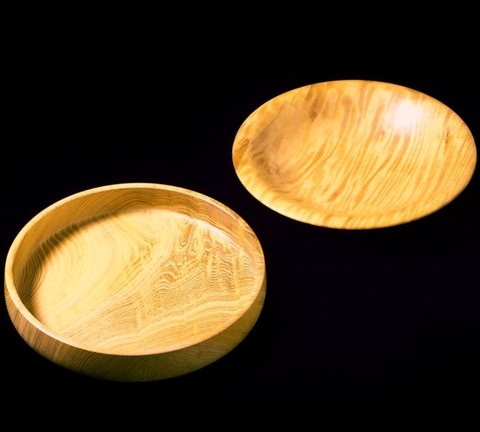 16世紀の末、現在の石川県南部を中心とした地域を支配していた加賀藩が使用する材木を、庄川の流れを利用して送るという、流木事業が始められました。
流木は庄川町地内の貯木場にたくわえられ、北陸における一大集散地となりました。
その豊富な木材を求めて、19世紀の後半に職人が庄川町でろくろ木地を商売にしたのが、庄川挽物木地の始まりと伝えられています。現在では34社が事業を行い、生産高において全国有数の産地となっています。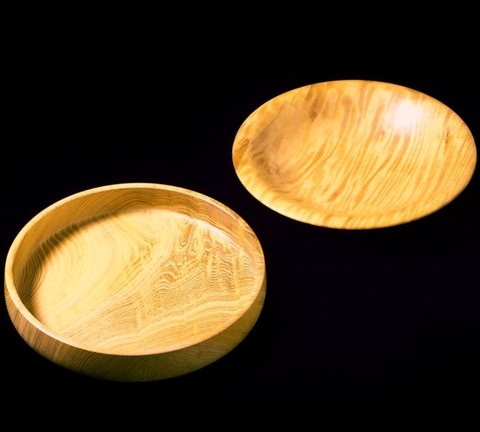 At the end of the 16th century, timber used by the Kaga clan, which governed the area mainly in the south of present-day Ishikawa prefecture, used the Shogawa river to float logs down stream. This is how the handling of timber began and the logs were stored in a pool within the district of Shogawa-cho, which became the largest collection point for timber in the Hokuriku region. Making use of this rich supply of timber, carcass turnery as a craft began here when a Echigoya Seiji started selling turned carcasses in Shogawa during the second half of the 19th century. Now this is one of the few areas in the country where there is such a high volume of production of this kind of goods.
The qualities of each tree grown in the wild are of course different. Annual rings appear in various shapes and forms and while there are many variations in the appearance and character of a piece of wood, the unique coloring helps to set off the grain. The aim here has always been to find ways of providing a product preserving the inherent warmth of the wood. Today a large range of items are produced including tea trays, coasters, candy bowls, soup bowls, boxes for tea utensils, caddies, plates and large bowls. There are 34 companies engaged in this work employing 121 people, among whom are 15 government recognized Master Craftsmen.
出品作品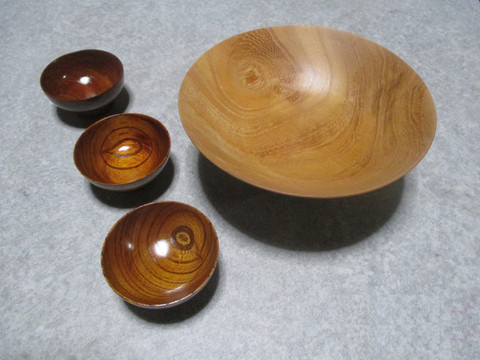 大「錐(スイ)」8,000円(税別)
小「ちょこっと盃」1個1,500円(税別)